SPECIAL OFFER 2014: 5 Students for the price of 4!!
Attention new student members – club together & get a 20% reduction in your membership fee.  To qualify, all 5 student members must not have previously been a member of the club and have paid the 1st installment of membership before 1st November 2014.  Contact your Club Captain or Membership Secretary for more details.
COACHES AND UMPIRES
If you are a coach or an umpire, or interested in this, please also let us know.  We run courses and their is reimbursement. For more information, contact the Director of Hockey, Heber Ackland on 07720 841200 or [email protected]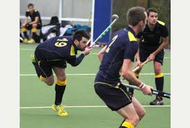 Ladies and Gentlemen,
Firstly, welcome to Bath, I hope you are all enjoying freshers week and are settling in well.
If you have received this email it is because you have expressed an interest in playing Saturday hockey for Team Bath Buccaneers when at Uni trials on Thursday morning.
For those of you who don't know, Team Bath Buccaneers is the largest and most successful Club in the West of England and is affiliated with the University, which has been a major part of our success in recent years.  Our Mens 1st XI play in the Now Pensions National League (West Conference), our Ladies 1st XI in the West Premier and we have a further 7 Mens and 4 Ladies sides from Regional Prem down to the middle reaches of the Western League.  So there is plenty of opportunity to play League hockey at all levels.  We are making a strong push on all levels for promotion this year, so are looking for players who can help us strengthen the Club and in turn help Uni hockey.   
Under our Head Coach, Jody Paul (also the University of Bath Coach, England Mens U21 Assistant Coach and former Olympian for South Africa), we have a strong team of coaches and a focus on personal and technical development.  We play all our home games on the Uni pitches and our clubhouse is at Bath Golf Club (5 mins down North Road) behind the Uni, ideal for those of you based on Campus.  
For a feel for what the Club – your Club – is all about, go to https://www.teambathbuccaneers.co.uk/ and it will give you all the details and information you need to know.  If you have any follow up questions, let me know.  But as a first point of contact, do also speak to Freddie (our Uni Liaison lead and former Bath Uni student).  
What to do if youre interested in playing:
–    If you want to play for the Mens D team, which is a primarily student team which plays in Div 2 to a good standard, contact Joseff Bird (Yr 2).  If you have a car, he'll bite your hand off!  (and ensure you're reimbursed)  
–    If you want to go for the Elite section of the Club (ie 1s / 2s) and are not already on the books, then please contact Dan Cattermole (Men – A Team Manager) and Nicky Wilson (Ladies Club Captain), 
–    All contact details for the above named people can be found under About the Club / Meet the Committee.
–    If you just want to come and join in and find your standard in whatever team, and whatever your playing history in the past, please come along to a Club Training which will give us the opportunity to see you play and allocate you to the right teams / training slots for future weeks:
    Mens Club Training every Thursdays, 7:30 – 9:00 pm on Pitch 1
    Ladies Club Training every Tuesday, 7.30 – 9.00 pm on Pitch 1
Whatever your level also why not come along to the Team Bath Buccaneers Club Day for some 7 aside Mixed hockey, part of the England Hockey National Club Weekend at the SITEC Pitch on this Sunday 28th Sept at 1.30 pm – 4 pm.  It will be a fun event and a good way to meet our many members and each other.
If you have any specific questions about the club then feel free to ask me, otherwise check out the following:
– website: https://www.teambathbuccaneers.co.uk/
– facebook: www.facebook.com/teambathbuccaneershc
– twitter: http://twitter.com/#!/tbbhockey
Yours in hockey,
Heber
Heber Ackland
Director of Hockey
Team Bath Buccaneers HC
Fast, Fearless, Fun
email: [email protected]
phone: 07720 841200