Returning to Competitive Play/Covid-19 Information
Hockey is now at Step 4 of the Return To Play Guidance and moving to stage 5 return of league competitions at the end of September.
All hockey participants have an important role to play in keeping themselves and others safe during this COVID19 crisis. England Hockey has made a commitment to DCMS and Public Health that participants returning to hockey will follow EH and Government guidance to reduce the spread of infection.
All the information you need is here.  Please make sure you read the information and make sure you know all the requirements.
Any suspected or confirmed cases should be reported immediately to our Covid Officer
Jo McDermid
07850132327
We have also published any cases that the Club has come into contact with which could affect members.  Please click here to access the page.  Please note this is for information only and any affected TBB members will be notified and given advice direct.
---
All members need to sign the England Hockey Participation Form to be able to take part in any session (training, matches)  Please make sure you select Team Bath Buccaneers
---
TBB Players information documents
Important Player Information Covid 21/09/2020
Map of Where to Wait to Access STV Pitches
How to set up Teamo PlaySafe for Players to Check into Track and Trace
How to book in on Teamo for training and matches for players
TBB Player Information - Updated 24th August 2020
STV Procedures for TBB Players - The 10 Key Points Download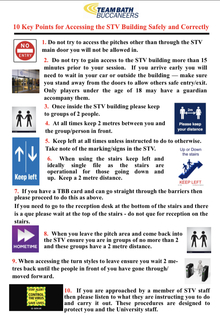 ---
TBB Coaches, Managers, Captains, Offcials information documents
Coaches , Managers, Captains, Officials Information for Returning to Play
How to set up Teamo PlaySafe for Officials - Updated 30th August
Idiots Guide to Teamo Updated 14/9/20
---
Sports Training Village information and documents:
Update 25th September 2020
Face Coverings
Further to guidance from the University we have now updated our Face Mask policy in line with the following statement Everyone is required to wear a face covering in the Sports Training Village and the Founders Hall (when it re-opens) apart from when exercising or in the changing rooms (*under 12's are exempt as are individuals    with medical exemptions)
We would kindly ask that you reinforce this stance within your own Club cultures and that you remind everyone of the additional ongoing need to follow social distancing at all times.
NHS Track & Trace
In line with recent legislation, we are now actively requesting that all visitors to our premises (over the age of 16) download the NHS Covid 19 App and scan the displayed QR codes upon arrival.  Copies of the Sports Training Village QR codes are located at the main front doors, along the entrance level walkway, on the glazing overlooking the Reception area and on the Reception Desk itself.   Copies of the Founders Hall QR codes will be displayed upon entry to the building on both the Upper & Lower levels, by the Reception Desk and by the entrance to the Sports Hall itself.
The scanning of these codes is the responsibility of those entering the facilities but we would encourage all visitors to do so. 
Please note that the use of the NHS Covid 19 App and associated QR codes is not intended to replace your own individual Club Track & Trace arrangements and we would ask that you continue to Track & Trace as normal during this time.
---
England Hockey Guidance and information:
EH FAQs Updated 14/8/20  - This information is updated regularly on the EH website please click here to make sure you are reading the latest version